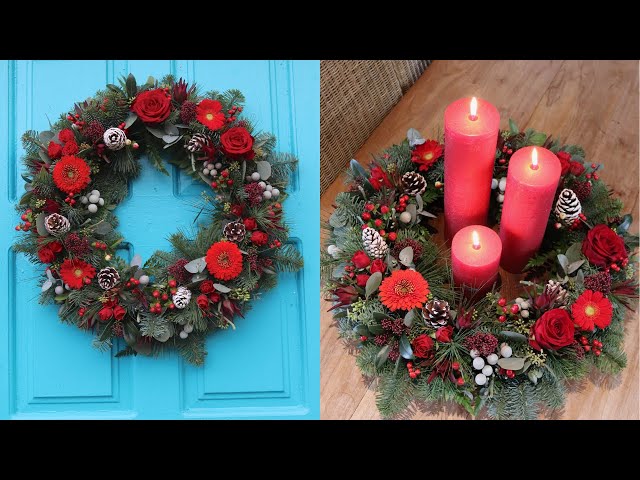 Nothing says Christmas more than this wreath by Lamber de Bie Flowers. This stunning fresh flowers Christmas wreath can be used as you door wreath as well as a table centre flower display as you can see in the Video. Using this as a table centre you cou
Fresh Flower Christmas Wreath Red green and Silver
Fresh Flower Christmas Wreath Red / Silver
Nothing says Christmas more than this wreath by Lamber de Bie Flowers!
This stunning fresh flowers Christmas wreath can be used as you door wreath as well as a table centre flower display as you can see in the pictures.
Using this as a table centre you could add some candles of your choice as we showed in our pictures.
Candles are not included with this product.
This would also make a wonderful Christmas tribute to the loved ones that are no longer with us this Christmas by placing this arrangement on the grave.
We have used a selection of fresh green foliage such as evergreen Nobilis Christmas tree branches, soft pine needles and silver Eucalypthus. The flowers are bright red and deep red tomes and we used large roses as well as small individual spray roses, red Hypericum berries, red Germini, the red daisies as well as red Skimmia and Leucodendron. We also use some natural silver berries and natural pine cones with a touch of snow to finish off this amazing floral masterpiece.
We can make this for you in 3 different sizes – have a look at the details and choose the size that suits you best.
Large - € 120.00
Made on 16 Inch wide oasis base (Large as in picture)
Total diameter 22 Inch (55 cm)
Also available in Medium: € 75.00
Made on 14 Inch oasis base
Total diameter 20 Inch (50 cm)
Also available in Small: € 60.00
Made on 12 Inch oasis base
Total diameter 18 Inch (45 cm)
Please let us know if you have any questions or product inquiries. Call our Kilkenny Shop on 056–7770161, Waterford Shop 051–379440 or submit your request via Contact Page
Delivery Info
Terms and Conditions