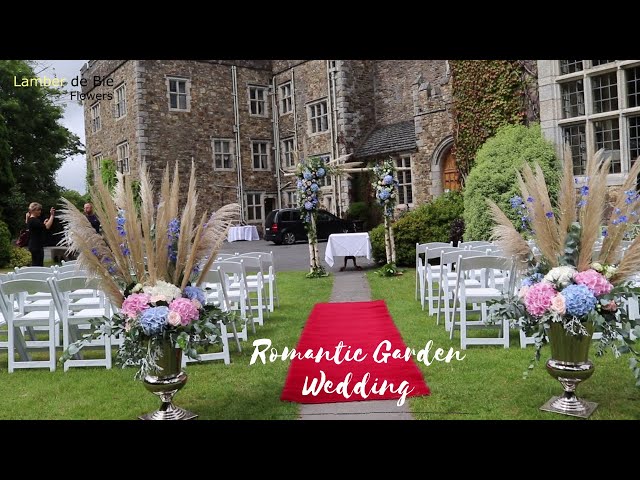 Lamber de Bie florist and his team set up for a very romantic wedding in front of the stunning Waterford Castle on its private Island in the South East of Ireland. Lamber is using his woodland - birch arch decorated with pale blue and soft pink summer hyd
A Romantic Garden Wedding at Waterford Castle (Lamber de Bie Flowers
Waterford Castle


Lamber de Bie Flowers at Waterford Castle Hotel

We provide flowers for all events and weddings at Waterford Castle, from small and intimate parties to a large occasions. We work with all budgets and can accommodate everything from the truly extravagant to the most simple of celebrations. Finding the right florist to work with you is essential to making your day a success. We are here to help with beautiful flowers, stunning ceremonies, gorgeous lunches, dinners and parties.

It may seem like something from a dream but there actually is an exclusive castle on an Island with a private boat to ferry guests over the King's chanel. Waterford castle resort is a luxury 16th century estate on historic island gardens with first class golf and spa facilities. The romance of the journey only begins at the boat journey as the mature oak lined avenue reveals an anciant gothic manor house. Lamber and the team love the sheer escapism of creating magical flower arrangements in this unique space. Lamber, inspired by the magic gothic tracery of the architecture and the genteel gardens, has created whimsical bouquets, wild statement pieces and nostalgic country garden arrangements for brides and private parties. He has a great relationship with the team at Waterford Castle and they both admire each others professionalism and creativity.

Customer testimonial:
Gary and Cathleen Weiss - Indialantic Florida, USA
We had a dream of creating the ultimate fairy tale celebration of our 25 the wedding anniversary at Waterford Castle. We had a very small private wedding twenty five years ago and wanted to share with all our friends and family our gratitude that sometimes, love stories and fairy tales really do come true! We let our imaginations go wild about how the castle and grounds could be transformed into our personal fairy tale for four days. The only problem was we were in the US and would not be in Ireland to organize or work with any vendors directly.
We will be forever grateful for the wonderful staff at Waterford Castle who guided us and for our very great fortune in choosing Lamber de Bie as our Florist. This brilliant team far exceeded our dreams by providing the flowers and decor that captured the themes and perfectly interpreted our visions ---expressed only in emails from the US over the months before the four day celebration. And here's the most amazing part: he did all this while staying within the budget we suggested at the start and meticulously alerted us to any changes or alterations needed along the way. Quite frankly, we were surprised at how reasonably priced this entire floral and decor package was, especially when we realized we had one of the true master floral designers in Europe fulfilling our visions!
We never met Lamber and his wonderful team in person until the day we and our guests arrived! And yet the castle was already lavishly festive with Flowers to welcome us and set the tone for something very very special. Indeed, each day Lamber continued to amaze us with breathtaking displays and special touches that created excitement and joy for all of us. He even interpreted our All-American Motown theme for one day and then switched to a vintage Victorian garden party the next while utilizing many of the same luscious blooms! We celebrated our actual anniversary day with the over the top grand ball with candelabra and exquisite gold and white garlands and the fabulous outdoor floral displays that greeted guests at the vow renewal became sensational table centerpieces. Best of all, Lamber built from research, innovation and sheer dedication a magnificent Chuppah (a traditional Jewish Marriage canopy) that impressed our Rabbi because she was quite sure no one in Ireland would have the first clue how to build a Chuppah! This man is a genius and an artist and a wonderful human being who truly listened to all our wildest dreams and made them come true! 8 months later, our guest are still talking wistfully about their memories of the event, the castle, the love they felt expressed in every detail and then they say, "But those flowers...I still can't get over those flowers.."
Please contact Lamber De Bie Flowers if you are looking for a wedding or event florist at Waterford Castle Hotel. One of our highly creative florists will listen to your ideas and wishes and from that we will be able to guide and advise you every step of the way. We will work together to ensure your flowers will look amazing. For a complimentary consultation or information about our wedding/event services at Waterford Castle please call our Kilkenny Shop on 056–7770161, Waterford Shop 051–379440 or submit your request via Contact Page
Contact us for mere information;
kilkenny@lamberdebie.com
waterford@lamberdebie.com
More Wedding and Party Venues Recommended By Lamber De Bie