Flower Delivery Kilkenny
Flower Delivery Kilkenny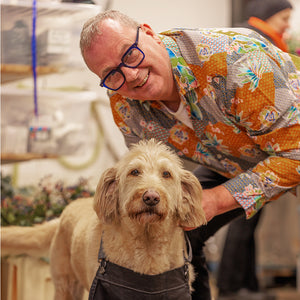 The Premier Kilkenny Florists
Our Kilkenny Flower Shop is owned and led by Ireland's only Master Florist, Lamber de Bie. Our talented team of Kilkenny Florists have over 65 years joint experience and are passionate about creating bouquets and arrangements that wow.

We offer the freshest, hand-crafted artisan bouquets and floral arrangements with Same Day, Free Local Delivery available 6 days a week, for orders placed on our website before 2pm, anywhere in Kilkenny.
Lamber de Bie Flowers opened their flower shop in Kilkenny in 2001 on Ormonde Street between the Hibernian Hotel and the Ormonde Hotel in Kilkenny City. Kilkenny is famous for its medieval buildings and castles. Kilkenny Castle, The Butler Gallery, St Canines Cathedral and Roth House are some of the amazing tourist attractions to be found in Kilkenny City.
Winter Wedding Flowers at Mount Julilet Estate
Lamber De Bie Flowers are delighted to be the chosen florist for Mount Juliet Estate and look after lots of weddings here as well as all the flowers for the both Hotels on the stunning country house estate.

The floral decor by Master florist, Lamber de Bie for the wedding service was understated and naturally with lots of candles , natural Irish winter greens and seasonal white flowers. Aoife's bouquet was the starting point of all of the floral decor Lamber created for her wedding.
Free Flower Delivery
Same Day Flower Delivery Kilkenny is available for free, 6 days a week, for orders placed before 2pm, with eircodes starting X91.

We also offer Free Flower Delivery in Kilkenny and Next Day Delivery anywhere in Ireland and Northern Ireland, plus you can choose your delivery date to ensure your flowers arrive exactly when expected.

For the Best Flower Delivery Ireland has to offer look no further than Lamber de Bie. Our luxury bouquets and arrangements are safely and securely packaged in beautiful, 100% recyclable gift boxes. A handwritten card with a message of your choice is included as well.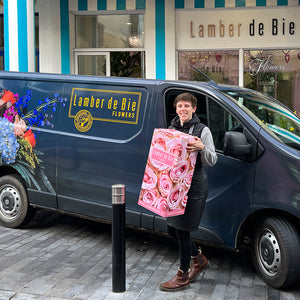 Get In Touch
Our experienced, caring Kilkenny staff are here to help guide you through the entire process of placing your order. Give us a call, email or call using the details below.

Lamber de Bie Flowers deliver throughout the county of Kilkenny and is the recommended local florists if you want to send flowers to the towns of ; Ballyragget, Bennitsbridge, Callan, Castlecomber, Fiddown, Freshford, Goresbridge, Gowran, Graiguenamanagh, Inistioge, Johnstown, Kilree, Knocktopher, Mullinavat, Piltown, Thomastown, Urlingford, Ballycallan, Ballyfoyle, Ballyhale, Clara, Conahy, Crosspatrick, Hugginstown, Johnstown, Kells, Kilkenny, Mulling, Owning, Paulstown, Piltown, Rosbercon, Slieverue, Stoneyford, Templorum, The Rower, Cuffsgrange, Kilmacow, Threecastles, Kilmanagh, Dungarvan County Kilkenny, Dunmore, Kilmoganny, Tullaroan, Fiddown, Tullogher, Galmoy, Glenmore, Loughboy, Lisdowney, Urlingford, Windgap - Or to any of the Hotels in Kilkenny including; Mount Juliet Hotel, Lyrath Hotel, Rivercourt Hotel, Langtons, Hotel, Ormonde Hotel, Hibernian Hotel, Zuni Hotel and Townhouse, Newpark Hotel, Hotel Kilkenny, Club House Hotel, The Hoban Hotel, Butler House, Kilkenny House Boutique Hotel and Avalon House.
Beautiful Floral Tribute
"You started on my order straight away. The order was for my aunts funeral, and feedback from my family describes a beautiful fresh tribute to my aunt. I called you after placing the order and you were helpful and informed.you produced a beautiful tribute for my aunt and we are very grateful and will be using you again"
Gorgeous Wedding Flowers
"Lamber and his team at 'Lamber de Bie Flowers' were a pleasure to work with for our wedding. As a couple who are very limited in creativity, he was able to turn our vision and concepts into something truly beautiful. Highly recommended for weddings and other occasions."
Artists
"Artists; they can create a masterpiece in minutes. Affordable and friendly, the quality of their work is unrivalled, and the feedback from loved ones on special occasions has been second to none. Thanks a million, Lamber and team!"