Funeral Flower Arrangements
Funeral Flower Arrangements
Sympathy Bouquets
Send condolences or mourn for someone you've lost with our range of flowers for funerals. We take extra care to insure each funeral flower is expertly placed to create an arrangement worthy of your cherished loved one.

Sometimes words can seem inadequate, so sending the grieving family flowers is a thoughtful way of expressing love and support. Although a complimentary, handwritten message can be included if desired.
View our range of sympathy bouquets below or get in touch for a custom order of funeral flower arrangements.
Our Nationwide Delivery Funeral Flowers
Our most popular funeral flowers to send as gestures of condolence are the White and Green Bouquet and the Funeral Sheaf, which is available in a variety of floral options. They are both available for free nationwide delivery.
White & Green Bouquet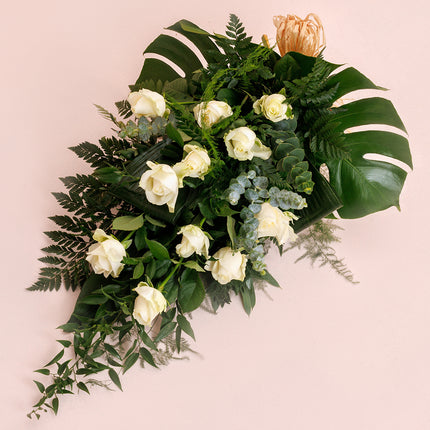 Funeral Sheaf / Bouquet
Types of Funeral Flowers
It can be difficult knowing what flowers are appropriate to send for funerals and in times of sympathy. Below are the main types of funeral flowers arrangements, including funeral wreaths all of which are available at Lamber de Bie Flowers.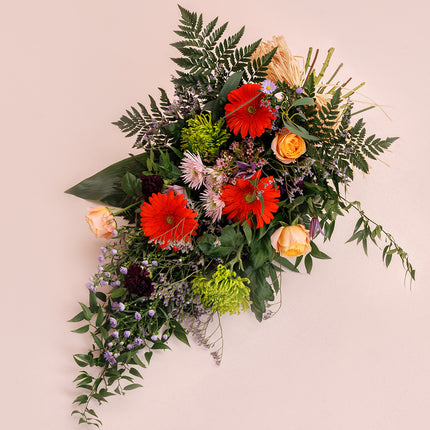 Funeral Sheaf / Bouquet
Perfect for sending to a funeral & can be sent to a home address after a funeral as a fitting alternative. Nationwide Delivery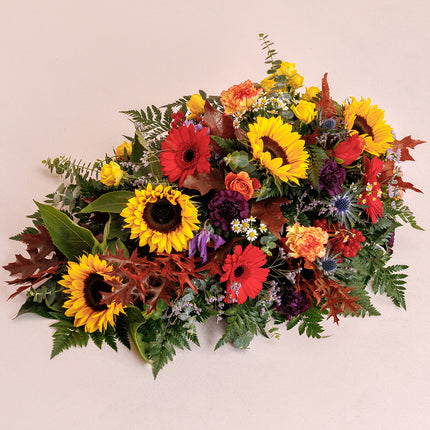 Funeral Spray
Used during funerals, then placed on the grave as a tribute, sprays are our most popular funeral request. Waterford & Kilkenny Delivery Only
Wreaths for Funerals
A classic and traditional funeral tribute, available in a wide range of styles, colours and sizes. Waterford & Kilkenny Delivery Only
Posie Arrangement
A versatile range of tributes which can either be sent to the funeral or given as a gift to the family. Waterford & Kilkenny Delivery Only
Coffin Spray
Various styles and sizes of coffin tributes are available. These tend to be provided by the immediate family. Waterford & Kilkenny Delivery Only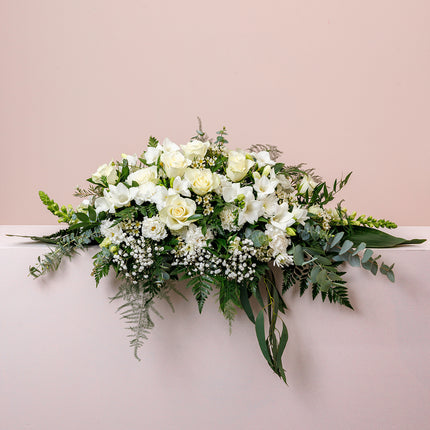 Church Funeral Arrangement
A touching floral reflection of the
deceased as a simple gesture of love and remembrance. Waterford & Kilkenny Delivery Only
Personalised Funeral Flowers
Our expert florists can create floral arrangements to suit a variety of needs for funerals, memorials and commemorative events.

Celebrate and honour your loved one by creating personalised arrangements that include the deceased's favourite flowers (if in season) for a tribute that is unique and meaningful.

Need help selecting an appropriate flowers for funerals? Our master florists are happy to help you plan the perfect tribute.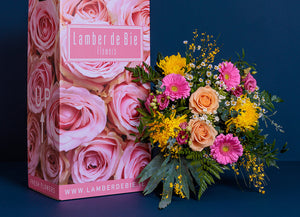 Funeral Flower Delivery
Being with the bereaved family in person can be difficult at times. Let us help you make the flower delivery process as simple and stress-free as possible by ensuring that your funeral flower arrangements arrive fresh, on time, and looking beautiful.

You can trust our dedicated team to deliver your floral tribute directly to the home of the deceased, the funeral home, funeral service, or the family's house of worship.
Sustainability
We care greatly about our planet and take every effort to run our business as sustainably as possible.

From sourcing local flowers, to using 100% recyclable packaging, we strive to make a positive impact for many generations to come.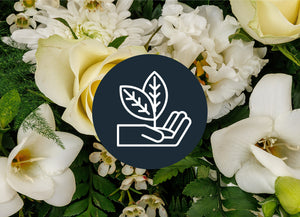 Get In Touch
Our experienced, caring staff are here to help guide you through the entire process, from choosing the perfect flowers for funeral arrangements to crafting a thoughtful message and arranging the delivery. Give us a call, email or drop by our Waterford or Kilkenny Flower Shop to speak with us in person about flowers for funerals.
Waterford Shop
Phone:
+ 353 51 379440
Email:
waterford@lamberdebie.ie
Hour:
Mon - Sat: 9am - 7pm
Sunday: 10am - 6pm
Kilkenny Shop
Phone:
+353 56 7770161
Email:
kilkenny@lamberdebie.ie
Hours:
Mon - Sat: 9am - 6pm
Sunday: CLOSED