Our Wedding Flowers
Our Wedding Flowers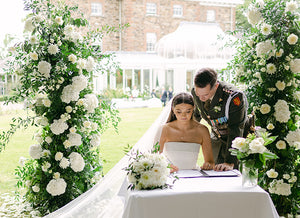 Wedding Flowers & Irish Wedding Venues
Our team of expert florists led by Lamber, Ireland's only Dutch Master Florist, have spent years creating unique wedding arrangements for Ireland's most stunning and popular wedding venues, such as Waterford Castle, Mount Juliet Estate and Kilkea Castle.
We also specialise in helping overseas couples create their dream destination weddings. Our team will work with your venue and wedding planner to set up every detail of the floral decor on the day of your wedding. From the church and wedding venue down to your very own wedding flower bouquet - we will look after you!
Our Recent Weddings
See what our couples have to say about their Lamber wedding flower experiences.

Thank-you so much for handling our daughter's wedding flowers and agreeing to incorporate the 1,000 Japanese paper cranes that we traditionally make and give for special occasions. As you know, they are extremely valuable to us so we will probably want to ship them back home to Colorado, USA after the wedding. We look forward to seeing your beautiful flower arrangements.
The Lamber Experience
From the first planning meeting to the setup of your wedding, every couple gets the full attention of our team. We make sure we understand your unique requirements and what's important for you and your wedding celebrations.
We start by finding out what your inspiration is and what works best within your location, season and style. Our team will translate all these details into a work of art that becomes the floral story around your big day.
The Memories
Take a look at some of our favourite shots from our recent weddings in Ireland.
Planning Your Wedding?
From small, intimate affairs or wedding bouquet flowers to significant productions, we'd love to make your dream wedding flowers a reality. Please call our Kilkenny Flower Shop at 056 7770161 or submit your request via our Contact page.