Get Well Flowers
Get Well Flowers
Let them know you care with a luxury bouquet of Thinking of You Flowers. Whether you're looking for Get Well Soon Flowers, Sympathy Bouquets or Sorry Flowers, we have you covered with a great selection of artisan bouquets that are sure to delight, all with Fast, Free Delivery. Our Get Well Flowers are handcrafted, one-of-a-kind bouquets designed by the only certified master florist in Ireland, Lamber de Bie. Guaranteed Freshness of your bouquet is guaranteed for 7 days.
Funeral Flowers
Send condolences or mourn for someone you've lost with our range of flowers for funerals. We offer a range of funeral bouquets available for nationwide delivery.
A wider range of funeral wreaths, sprays and arrangements are available for local delivery in Waterford and Kilkenny. Celebrate and honour your loved one by creating personalised arrangements that include the deceased's favourite flowers (if in season) for a tribute that is unique and meaningful.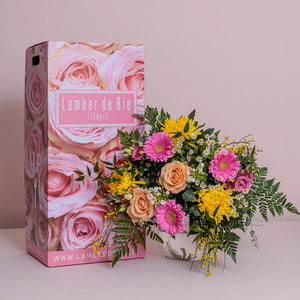 Next Day Free Delivery
Our Get Well Soon Flowers come with Free Delivery anywhere in Ireland and Northern Ireland. You can choose your delivery date to ensure your flowers arrive exactly when expected. Next Day Delivery is also available for last minute orders and same day delivery is available locally in Kilkenny & Waterford.
Our Get Well Flowers are safely and securely packaged in beautiful, 100% recyclable, eco-friendly packaging. A handwritten card with a message of your choice is included as well.
Get in Touch
Our experienced, caring staff are here to help guide you through the entire process, from choosing the Best Get Well Flowers, to crafting a thoughtful message and arranging the free delivery. Give us a call, email or drop by our Waterford or Kilkenny Flower Shop to speak with us in person about our Get Well Bouquets.
Waterford Shop
Phone:
+ 353 51 379440
Email:
waterford@lamberdebie.ie
Hour:
Mon - Sat: 9am - 7pm
Sunday: 10am - 6pm
Kilkenny Shop
Phone:
+353 56 7770161
Email:
kilkenny@lamberdebie.ie
Hours:
Mon - Sat: 9am - 6pm
Sunday: CLOSED