Thank You Flowers
Thank You Flowers
We offer the Best Thank You Flowers designed by the only certified master florist in Ireland, Lamber de Bie. Buy with confidence, knowing a Thank You Flower Bouquet made by Lamber de Bie Flowers is a one-of-a- kind work of art that's always made of the highest quality fresh flowers.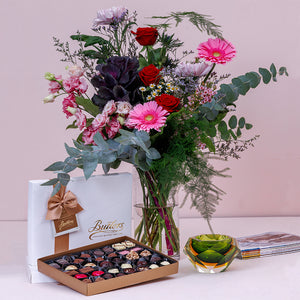 Thank You Flowers And Chocolates
For the chocolate lover, why not include a delicious box of Butlers Chocolates from their Signature Chocolate Collection. 
Beautifully presented, this indulgent box of 36 treats is brimming with handmade truffles, irresistible pralines and a host of milk, dark and white chocolate delights.
Thank You Flowers Delivery
Our Thank You Flower Delivery is available for free anywhere in Ireland and Northern Ireland. You can choose your delivery date to ensure your flowers arrive exactly when expected. Next Day Delivery is also available for last minute orders and same day delivery is available locally in Kilkenny & Waterford.
You can send thank you flowers with confidence knowing they are safely and securely packaged in a beautiful, 100% recyclable, eco-friendly gift box. A handwritten card with a message of your choice is included as well.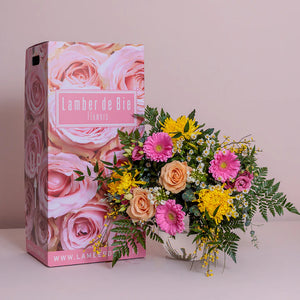 Get in Touch
Our experienced, caring staff are here to help guide you through the entire process, from choosing your thank you flower bouquet to crafting a thoughtful message and arranging the delivery. Give us a call, email or drop by our Waterford or Kilkenny Flower Shop to speak with us in person about our thank you bouquets.
Waterford Shop
Phone:
+ 353 51 379440
Email:
waterford@lamberdebie.ie
Hour:
Mon - Sat: 9am - 7pm
Sunday: 10am - 6pm
Kilkenny Shop
Phone:
+353 56 7770161
Email:
kilkenny@lamberdebie.ie
Hours:
Mon - Sat: 9am - 6pm
Sunday: CLOSED